Manifolds and Systems for Austin ,Austin Healy, Citroen, Ford, Gilbern, Hilman, Lotus, MG Metro, Mini ,Morris, Nissan,Peugeot, Porsche, Rover, Triumph, Vauxhill.
New Exciting Manifold Development
STAGE II LCB
+
RCM EXHAUST SYSTEM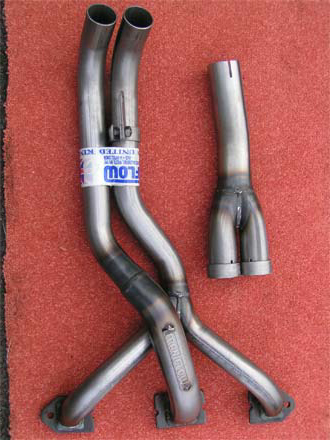 Exciting New Manifold Development: Maniflow Stage 2 LCB + RCM EXHAUST SYSTEM

Maniflow has improved the design and performance of their highly successful LCB in conjunction with top mini racing engineers. Maniflow has now turned their attention to the exhaust system, by creating a reverse cone magaphone setup similar to the race version but in a road configuration, thus creating a better BHP but more importantly a much improved torque and power curve.

This has been done by enlarging and shaping the middle pipe which creates a type of vortex, simulating a pulsing effect similar to the outside two pipes and on the exhaust system, by using a reverse cone megaphone (RCM) to create similar back pressures.

This manifold is now available in a road version!!!

This is to be sold at £95.00 and exhaust system at £98, available at Maniflow suppliers or direct from Maniflow on 01722 335378 - please quote part number LM004SIIR.Manifold.or RCM01B system.

click here for larger power/torque graph


BEWARE! CHINESE COPIES OF THE ORIGINAL MANIFLOW LCB ARE NOW BEING OFFERED AND IMPLIED AS IMPROVED VERSIONS. THESE MANIFOLDS HAVE CAST FLANGES WITH INLET FITMENT PROBLEMS, FIT A LIMITED RANGE OF MINI'S AND ARE UNPROVEN. BEWARE!!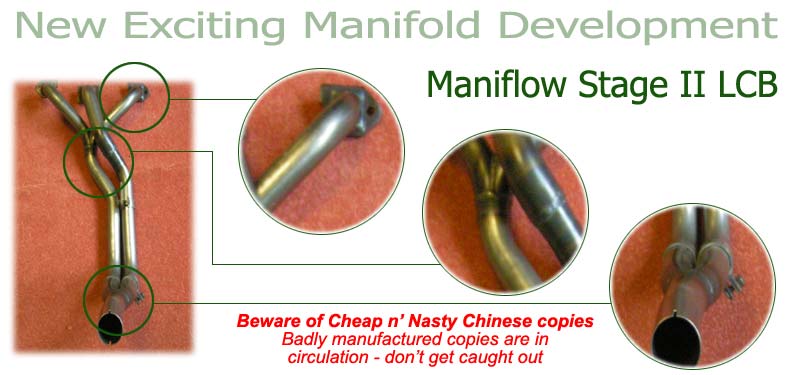 Click for info on this new maniflow exhaust manifold